Sporetrofit technology is contributed to develop smart device and sport platform in order to connect every sport person and further to connect every trainer's professional word of mouth in the exercise place and to connect every moment between trainer and student through sport platform.
Sporetrofit technology provide all-round sport data services including smart gym information platform, fixed data capturing devices and non-fixed capturing devices:
Operators of the sport center can use the smart gym information platform to systematically manage gym service information including place, equipment, class, people flow and member order information efficiently and further, reduce work process and administrative manpower. Sport member can use the smart gym information platform APP to view and reserve the place, equipment and online class and also pay online to finish reservation process.
Sport members can use the patented retrofit, the data capturing devices to record and manage personal exercise data. Through the step of combination and separation between the tag and the reader that can make system record the using status of specific equipment and place. The data uploaded by varied sensors, Bluetooth, ZigBee and Wifi of sport equipment can upload and receive the order from the cloud after smart recognition and partial processing; and also control the sensor and brake.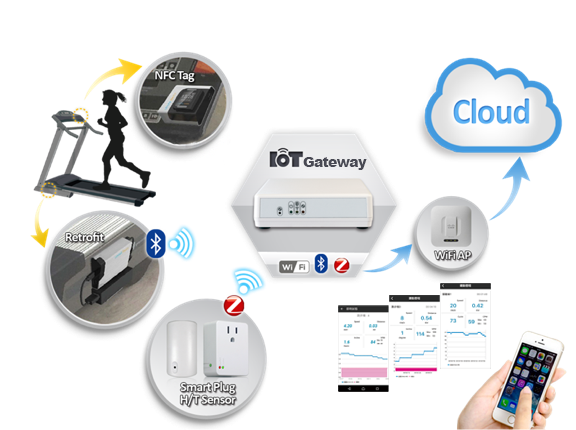 Sport trainers can collect members' exercise data including instant data and exercise history: the instant data can track members' training process remotely; exercise history can analyze members' fitness level and personal sport capability to suggest suitable sport classes and to guild the execution. That also track and compare the result of the exercise, and further to adjust the exercise plan and habits accordingly.